By Terry Battisti (photos by Joey Breckenridge)
When Ray Scott started the Bassmaster Tournament Trail there weren't any nationally known anglers. Although the Bill Dances, Roland Martins and Billy Murrays all existed, no one outside their area codes knew of them.
In 1971 Scott decided that a year-end championship would crown the best bass angler in the world – the event would be called the Bassmaster Classic. By 1970, though, people were starting to get an idea that this bass-thing was catching on and there were some anglers whose names were popping up time and time again.
This new event was held the first time near Las Vegas, Nev. and was won by well-known angler Bobby Murray
of Arkansas. The second year, an Oklahoma spinnerbait maker and B.A.S.S. legend named Don Butler took all the beans. Both anglers had made names for themselves the prior 5 or 6 years on Scott's new trail and through Bassmaster Magazine.
In 1973, though, a relatively unknown farmer from Paragould, Ark. decided to take out a loan, quit farming for a year and see if he could compete. This decision would change his and his family's lives – from tilling the land to Bassmaster Classic Champion and professional television angler. That man was Rayo Breckenridge.
Although the '73 season was Breckenridge's first on the Tour, he was no stranger to bass fishing. He grew up hunting and fishing – some say he was a better hunter than angler – and had become a serious contender on the local trails. This success gave him the confidence that he could compete against the seasoned anglers on the pro circuit.
Breckenridge fished four events that year and qualified for the '73 Classic in 14th place. Next on the agenda was the Bassmaster Classic at Clarks Hill Reservoir on the Georgia–South Carolina border.
The results of this competition couldn't have come at a better time not just for Rayo, but his family. He won the event by over 4 pounds against Bill Dance. The win and the winnings not only gave him the confidence to quit farming, but also helped his wife Marilyn have surgery on her eyes – she was going blind due to diabetes.
Shortly after Breckenridge won Classic III, he started his television career – Rayo Breckenridge Outdoors, which was a small locally televised show. By 1979 the show had grown to national status and aired until 1985. The Breckenridges were making their living off of bass fishing – not the difficult farming they had done in the past.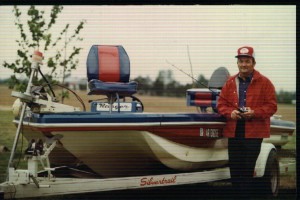 If you talk to any of the original professional anglers about Breckenridge you quickly get to know the man. He was a "gentleman's gentleman" as most all will say. Those same sources say he never had a bad word or thought about anyone and was always grounded by his close-knit family.
Breckenridge fished the Bassmaster Tour until 1981, when he quit to be with his ailing wife. During that time he fished 62 events, placed in the top 20 16 times, was in the top 10 seven times and had two 2nd-place finishes to go with his Classic win. He also qualified for the Classic six times.
Breckenridge may not be remembered by many of the contemporary anglers or fans of the sport, but his accomplishments on the water and off changed the way we view the sport today. He was truly one of the trailblazers of the sport.