BY TERRY BATTISTI
Blake Honeycutt will be formally inducted into the Bass Fishing Hall of Fame during the Hall's 2014 Induction Ceremony. Bass Fishing historian Terry Battisti, founder and owner BassFishingArchives.com, details a unique aspect of Honeycutt's career in the following story.
Although Blake Honeycutt only fished a total of 36 B.A.S.S. events, his record speaks volumes of his accomplishments. Out of 36 events, Honeycutt finished in the top 50 20 times, had 11 top-10 finishes, two 3rd-place finishes, one 2nd-place finish and one 1st-place finish. He fished three Bassmaster Classics (1972, 1981 and 1982) and if the Classic would have been held in 1969, he'd have fished that one too as he would have easily qualified. In fact, it would have also been a tight race for Angler of the Year between him and Bill Dance – had the AOY award been around.
What Honeycutt is most known for – and with respect to historians of the sport that means something – is that he still and will forever hold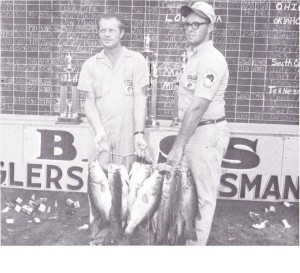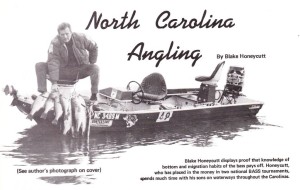 the record for the largest 3-day bag ever weighed in a sanctioned B.A.S.S. event. Yes, it was caught during the days of the 15-bass daily bag limit, but it's an impressive record nonetheless.
The event was the 1969 Eufaula National held at Lake Eufaula, Ala. Although Honeycutt didn't bring in daily record stringer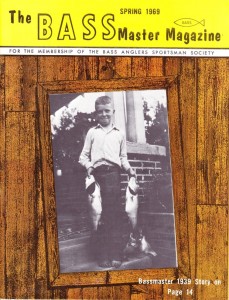 s like Rip Nunnery (15 bass for 98-15) or Gerald Blanchard (15 bass for 81-07) or Dance (15 bass for 83-00), Honeycutt's consistent daily weights allowed him to total up 138-06 for 34 bass over the course of the event.
But Honeycutt isn't just known for the record weight for a 3-day tournament. He's also known as one of the fathers – maybe "sons" is a better word – of structure fishing and migration routes. You see, Honeycutt was a disciple of fellow Hall of Famer E. L. "Buck" Perry.
Honeycutt, a Hickory, N.C. resident, was an early adaptor of Perry's unorthodox angling techniques. In fact, Honeycutt wrote an article titled North Carolina Angling in the Spring 1969 issue of Bassmaster magazine where he told of his experience with Perry and how it affected his angling from then out. He talked of the use of topographical maps to locate possible offshore structure and migration routes and how to fish them.
From his performances on the Tour, it's obvious he was in a league few others were in and had he fished more events, his name would be as well-known as the Dances, Martins and Murrays of the sport. Still, Honeycutt's contributions to the sport of competitive bass fishing will continue to live as long as anglers ply the deep waters far from the shore.